In proud collaboration with Red Thread Brewing Co., we have RPB-themed craft beers!
Red Thread Brewing Co. (rtbrewing.ca/our-beers) is a local craft brewer and has a passion for connecting people and things we love. Sharing a love for the game and of course for beer, Red Thread produced craft beers in that spirit. They also have old friend and original TFC captain, Jim Brennan as a partner! We were excited to be involved with this project. Celebrating the group, the game, supporting the Reds and drinking beer together. There isn't much more we love! A portion of proceeds from the sale of the brands are donated to a different charity each year.
Taste the Tradition. Brewed with Pride, Passion and Purpose.
THE BEER
23:13 All-Natural Craft Lager
We named this one after the goal that started it all and tradition that continues to this day. On May 12, 2007 in the 24th minute of play, Danny Dichio scored the first TFC goal. To this day, we celebrate every match with a chant at that exact time of play. The beer is an all-natural handcrafted lager that is perfect for a refreshing match day drink and celebrates the Red Patch Boys and the memories we have shared together.
Red X Natural Red Ale
Named for our 10+ years supporting the Reds or for the secret X ingredient that makes it special? Either way, this red ale is something different for match day and beyond.
WHERE TO FIND THEM
Last update: April 2023
COVID-19 Update
Due to COVID-19 business closures, order online and have them delivered straight to your door!
23:13 | Red x
(Subject to availability)
Also, available at the LCBO LCBO availability map.
(Subject to availability)
OTHER PRODUCTS
Red X Natural Red Ale Soap
Local business collaboration: KIBO Natural Body Care Products (Instagram) created a line of beer soaps. These all natural, locally made soaps emit an attractive, subtle scent. Made in Aurora, Ontario and are PROUDLY Canadian. Made with Red Thread Brewing Co. craft beer.
Order here. (Subject to availability)
Outdoor Survival Kit (includes Red X Natural Red Ale)
This grab-n-go kit is perfect for a day outdoors, at the rink, at the beach, on the the dock or on the slopes. This kit includes three(3) Red X 473ml Natural Red Ale. (also included, wet-dry bag, craft lagers, coupons, pepperettes, beer cozy, sunglasses, flyer disc, cell-phone back-up charger, flashlight/bottle opener/keychain, alcohol shot, sunscreen).
Order here. (Subject to availability)
The Mixed Craftbeer Holiday box (includes Red X Natural Red Ale)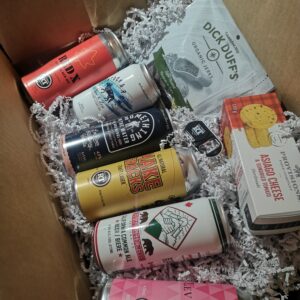 It's your one stop shop for craftbeer. Ideally suited for gifting as well- perfect for that someone with discerning tastes that you aren't sure what to get them. This kit includes two(2) Red X 473ml Natural Red Ale. (also includes craft beers, cider and snacks).
Order here. (Subject to availability)
E-gift card for Red Thread Brewing
Order an E-gift card. Have it emailed to you or directly to the person of your choice. Available in multiple denominations and NEVER EXPIRES! The perfect gift.
Order here. (Subject to availability)